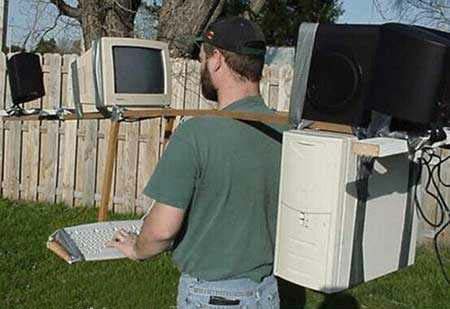 I always tend to find interesting little utilities or programs for your PC. Usually they are things that simply your experience on your machine or something that was really fun to have around.
· http://www.hewgill.com/xearth/
XEarth v1.0 – 170k
W9x/Win2/XP FREE
Someone's finally ported xearth over to Windows. For those of you unfamiliar with this program, it "renders a shaded image of the earth on your Desktop, as seen from your favorite vantage point in space. In order to display earthquake information, xearth uses a server at the USGS to obtain real-time earthquake status. One of the features of xearth is the ability to place markers on the globe at specific locations. Xearth comes with 76 locations built-in. If you know the latitude and longitude of a city, you can place a marker on your xearth map."
EditPad Pro – Mighty Fine Text EditorEditPad Pro is a powerful and versatile text editor or word processor. Designed to make text editing as convenient as possible, using EditPad Pro to edit text files will save you a lot of time and frustration.
A good Web designer knows that a color scheme is important. You want your site to stand out from the rest – and look good at the same time. You don't want an ugly mess that makes people sick to their stomach when they see it. Before you start throwing colors together (or invoking Technicolor yawns), pop over to this Web tool and see which colors look best together. Eh, perhaps that shade of green sitting next to a red wasn't so smart after all? "This hexadecimal & RGB chart scrolls, previewing multitudes of harmonious color combinations."
· http://www.wutc.wa.gov/webcommt.nsf/WebSiteConsumerComplaintForm
Make an informal complaint with the Washington Utilities and Transportation Commission.

The WUTC has a web page where you can register complaints against US West or GTE. This is one of the best tools, we as consumers, have to record the enormous amount of "dis-service" provided by GTE and US West. These records are brought to light anytime these companies request a rate hike.

Make sure your information is accurate and timely. After you submit the complaint expect to see a post card in the mail within about two weeks confirming your complaint has been recorded and provide you with a case number.