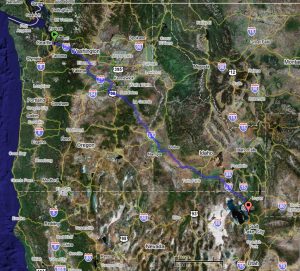 This was my first real vacation in probably close to 20 years. Since I was a kid and I would go forth on the family vacations with everyone. I've done many other trips since then but they have been for family, for work or for friends. This was the first trip that was just for me and a destination that I had been very excited to take!
I was blown away on how well my car did. A total of 2048 miles covered, some huge mountain ranges to cross, I basically filled the tank only four or five times total, we easily did the drive in eight or nine hours either direction and easily maintained 75 to 80 miles per hour most of the way. The trip there was a blast to drive; I could have easily driven another four hours. The trip back was just as nice but I didn't get as much sleep and there where a few times where I couldn't wait to pull in to a rest area and take a break.
Billy and Ed are avid fishers, one of their highlights was to go out and try the latest fishing spots. Since Ed is a resident of this area he took Billy out to the local reservoir to see what they could catch. They started their fishing day off with an early morning rise at 5 am. I really did want to go and watch but when the alarm when off and I got out of bed I realized, this wasn't going to happen. However, later that night they both decided to venture forth and see how the night fishing went. (These shots were all taken at night, why some are brighter than others is beyond me. That's one dang good flash I have….)
Saturday we headed off to Salt Lake City. We stayed outside Ogden near many of the ski resorts. Since we had made the trek down to Utah, we couldn't just leave the area without making a trip to see the great capital. One of the big highlights for me was to stop and view the Latter Day Saints Temple (aka Mormon Temple) area called Temple Square. Incredibly impressive and awe inspiring area. You don't have to be a member to see the area, the grounds are open (the temple itself is not). They have some incredible visitor areas filled with not only religious information, all of which is brilliantly laid out but some great pieces of history. A must visit for anyone visiting.
The final big moment of the trip was a trip to the Hill Aerospace Museum.  As we headed back from Salt Lake Billy noticed this flight exhibit off the free way. They had all these old (and new) air force planes outside and it looked pretty cool. So the next day we gathered Ed, his kids and headed off to check it out.
Let me tell you, it blew away Boeing's Museum here in Seattle. It was not so sterile feeling, the planes where right there where you could touch them and it had a nice friendly atmosphere. Add to that it was free and hosted well over 50 planes. For the kiddies, they had several space simulators and for the larger kids, they could play on several computer game based toys. Ed found them incredibly addictive. Unfortunately, three quarter of the way through my camera ran out of batteries so my picture taking get very limited.
An incredible and relaxing trip! The panorama shot below was my place to sit and watch the world each night. I only turned on the laptop to download pictures from the camera and only watched a couple movies with Billy and Ed. Otherwise I spent all our time when back at the condo on that porch watching the world go by. I'd do it again in a heart beat and can't wait for my next road trip.

August 2007